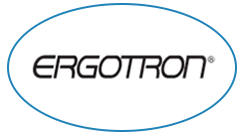 Founded in 1982, Ergotron has been delivering high-quality affordable ergonomic products for day to day office workers who spend most of the day on computers. The aim of the company is to promote a healthier, more productive environments for life and work with its passion for innovative designs. One of the more prominent names is producing digital mounting technology, the company has received countless industry awards for their innovative products.
Radius Office Furniture is one of Ireland's leading suppliers of Ergotron products. Our online catalogue offers a large selection of Ergotron designs including sit-stand workstations, adjustable standing desks, screen monitor arms in many variations and charging stations. The adjustable sit-stand and standing desks are offered with a keyboard compartment. All of these individual products are ergonomically designed to improve your workstation. A variety of products in our Ergotron range are offered with a warranty policy. This is to assure you that the ergonomic products performance and durability is guaranteed for that time period. All the products have been rigorously tested to ensure it meets the standards for home and office use.
Affordable Delivery Throughout Ireland
No problem! We offer flat-rate delivery of €11.99 for the first product, and €4.99 for each additional product across the entire country for all orders which are placed through our website.
Wide Range of Products in Stock
We offer a wide range of products in stock for next day delivery. Want something more specific? Choose from a variety of different selections as well as custom made items where you can choose the style, colour and finish unique to your needs.
We offer a professional installation service which includes delivery, package removal, complete installation and product guidance for your convenience.
Full Design and Fit-Out Services
We love projects! Contact us and we'll help you from designing your space to full office fit-out. If you can't quite find what you're looking for on our site, give us a call and we'll be happy to source whatever item you require.