More about our range of Folding Tables
Space can sometimes be a big influencer when it comes to purchasing furniture. Unless you have a permanent room for conferences, boardroom meetings and events, it's unlikely you'll have the available space in your office for a large meeting room table. However, meeting regularly with employees, clients, suppliers and shareholders is an important aspect of any successful business. Investing in a folding table can provide the solution. Simply unfold the conference table when you're ready to use it, then after the event, fold away and put back into storage. We have a range of folding wooden tables that are perfect for meetings. These desks are offered with an optional connection kit and can be easily extended by putting them side by side with each other making it a handy solution if there are going to be a lot of people present during the meeting or conference. These convenient tables enable you to make the most of your available space, providing meeting or boardroom facilities when you need them most.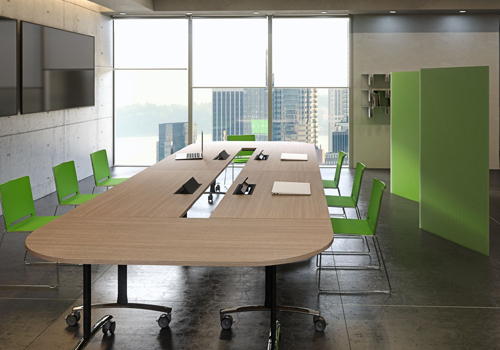 Furthermore, this type of table is a wise investment for catering companies and hospitality businesses because of their quick and easily transportable design. It can be a hassle trying to move un-foldable desks to a venue, but lucky for you, we have a range of lightweight folding tables to help you run your business as smooth as possible. Our range of rectangular folding desks would be an ideal solution if you are catering for a large number of people, as these tables are easy to transport and allow for you to connect them to the desired length you need. Rectangular desks are also ideal if you are at a venue with a narrow room.
When it comes to purchasing furniture, we understand that there may be a price budget in place. Here, at Radius Office Furniture, we try to cater to everyone's needs by stocking a wide variety of folding tables to suit your price point. So, in addition to our executive range, we also stock a range of cheap folding tables for sale, designed not only to be affordable but to represent excellent value for money. For an even more affordable option, we also stock used movable tables in our collection. All our used items are thoroughly checked before a sale, to ensure you receive a high-quality product for a reasonable price.
We offer delivery and installation across Ireland, in the four provinces: Leinster, Munster, Ulster and Connaught. All major cities across the island of Ireland are covered, including Dublin, Belfast, Galway, Waterford, Drogheda, Dundalk, Cork and Limerick. It doesn't matter if you're situated in rural Donegal or an inner-city Dublin 2 office, our installation and delivery service is designed to accommodate your requirements.
If you'd like to find out more about our range of Folding Tables or discuss your requirements, simply request a callback.
Didn't quite see what you're looking for? No problem, the above is only a small sample of what we have to offer - feel free to get in touch and we'll be happy to source whatever item you require. Working on a project? Let us know - we love projects and can help you from design to fruition.
CALL BACK